DJ Zinhle Biography, Age, Career, AKA, Boyfriend, Baby, House, Book, Net worth
DJ Zinhle Biography
DJ Zinhle Bio

DJ Zinhle real name Zinhle Jiyane is a South African Disk Jockey (DJ) and actress born on 30th December 1983 in Dannhauser, South Africa. She became popular in 2004 with Vinyl mixes. She is the first female DJ ever to release a house compilation in South Africa.

DJ Zinhle real name
Zinhle Jiyane
DJ Zinhle Age
34 years as at 2018; she was born on 30th December 1983
DJ Zinhle Baby
Kairo Owethu Forbes
DJ Zinhle Siblings
Zak Jiyane, Gugu Jiyane
DJ Zinhle Net worth
 est. R22 million as of 2018
DJ Zinhle Book
Meeting Your Power
DJ Zinhle and AKA
Dj Zinhle was in a relationship with AKA before they split up on cheating allegations with Bonang Mathemba. They share a daughter Forbes Kairo who was born in 2015.
DJ Zinhle Career
Dj Zinhle wanted to be a TV presenter and never thought of being a DJ. Her brother Zak owned a company that hired out sound equipment and he had so much love for music that he would always de-stress through mixing vinyls at home. One day he showed her how to mix.
Her first proper gig happened when she was helping her brother set up for an event. The DJ was late and she stepped in.
Dj Zinhle started out doing all her mixes from vinyl in 2004. She has since moved on to incorporate CD mixing and now both CD and Vinyl is her forte. In 2008 she jammed in the UK at gigs in Bradford and London for the Youth Day celebrations.
In 2006 she got her big break in SABC 1 youth show Jika Majika, a show that showcases the latest moves, as she was the resident DJ. She held the position until 2009.
Zinhle was the first female DJ to release a house compilation and she's had the opportunity to travel the world, DJ'ing at different events including the annual DJ Conference in Miami
Zinhle has also done some acting her first role was a cameo in the e.tv soapie Rhythm City, which she followed up with a more substantial role in Season 3 of the e.tv drama series eKasi: Our Stories, in 2011. In 2012 she appeared on the e.tv reality competition Tropika Island of Treasure 4. In the same year, she was a featured subject in the second episode of the second season of the SABC1 reality series Play Your Part, aired on 16 July 2012.
DJ Zinhle Academy
In 2009, DJ Zinhle partnered with Nomndeni Mdaki to launch The Firm Understanding of Sound Entertainment Academy (FUSE), the first DJing academy in South Africa that specifically targets female DJs.
FUSE Academy aims to empower young talented females in becoming DJ's and the approach adopted by FUSE is a holistic one aimed at identifying and nurturing talent.
FUSE Academy encapsulates the many challenges that females are faced with within the entertainment industry. It provides training, mentoring, and tutoring to equip students with the necessary skills and knowledge required to succeed in the entertainment industry.
DJ Zinhle and AKA
DJ Zinhle was dating rapper AKA but they broke up a week before the birth of their daughter after DJ Zinhle found out that he was cheating on her with Bonang Matheba.
'A week before our daughter was born, I found out about an affair between Kiernan (the father of my child) and Bonang Matheba. I also received confirmation of all rumours through an honest conversation which I had with Kiernan, who confirmed that the affair had been going on for over 5 months.
I will always respect him for his honesty.
I have dealt with this and found peace with his choice.
After the release of our first statement regarding the separation I felt that there was no need to go into details about the reasons, however, after the continued public display of Kiernan and Bonang's relationship as well as the commentary surrounding it, it has become important for me to affirm my power as a women, my strength of character, my continued focus on my work and my commitment to being a positive role model.
Never have I understood the challenges confronted by those women I delivered elaborate speeches to without fully understanding their pain. That being said, after a long period of introspection, I would still say what I have always said to every women who has come to me with their challenges and pain.' DJ Zihnle wrote on her blog
On 12th August 2018 a picture of Dj Zinhle and AKA getting cosy began circulating after they were spotted at Sandton nightclub and rumors began circulating that they were back together.
AKA looking at Dj Zinhle like "you don't listen" pic.twitter.com/wN5utwqsRH

— disclose (@6Uthapelo) August 13, 2018
DJ Zinhle Baby
She has a daughter named Kairo Owethu Forbes born in July 2015. As DJ Zinhle explains in her blog: "Kairo is an Arabic name and is a variant of Cairo, meaning "victorious one." My mother chose her second name, Owethu… a Zulu name meaning "ours." She is 'our victorious one'."
On becoming a mother, Zinhle says: "I could never have been prepared for the force of love that hit me when I first laid eyes on my baby girl. I remember the day clearly and it's a memory I hope I never forget."
DJ Zinhle Boyfriend
DJ Zinhle was dating Brendon Naidoo who was charged with multiple cases of fraud in 2017. Many people claimed that he had conned them of millions of rands in a bous foreign exchange trading scheme. One of the complainants told police that he paid Naidoo an amount of R900, 000 after being approached claiming that he was representing a reputable financial firm.
The couple stopped PDA's and the rumour mill has it that they have broken up although neither has confirmed or denied.
DJ Zinhle New Boyfriend
DJ Zinhle is allegedly dating Namibian businessman Collin Venaani. In February 2018 DJ Zinhle's management refused to confirm whether she was dating Collin or not, but revealed they had become friends over their shared interest in real estate and design.
"Her home project has led to a greater interest in property, décor and design, which has opened multiple opportunities for Zinhle. Collin and Zinhle have become friends through this newly found interest," her PR manager Jessica Porter said.
She said that Zinhle's focus was solely on her music, child and new home.
"Zinhle is currently completely focused on her daughter Kairo, her career and settling into their new home."
DJ Zinhle's book
She is set to release a self-help book aimed at women. During an interview with content creator Dennis Ngango she revealed that she was going to release a self help book aimed at women.
"It's written with the understanding of the African women and what she goes through."
On 1st June 2016 she posted the book on her twitter page. Its titled 'Meeting Your Power'
"OMG!!! God!! #MeetingYourPower 11.06.2018," she tweeted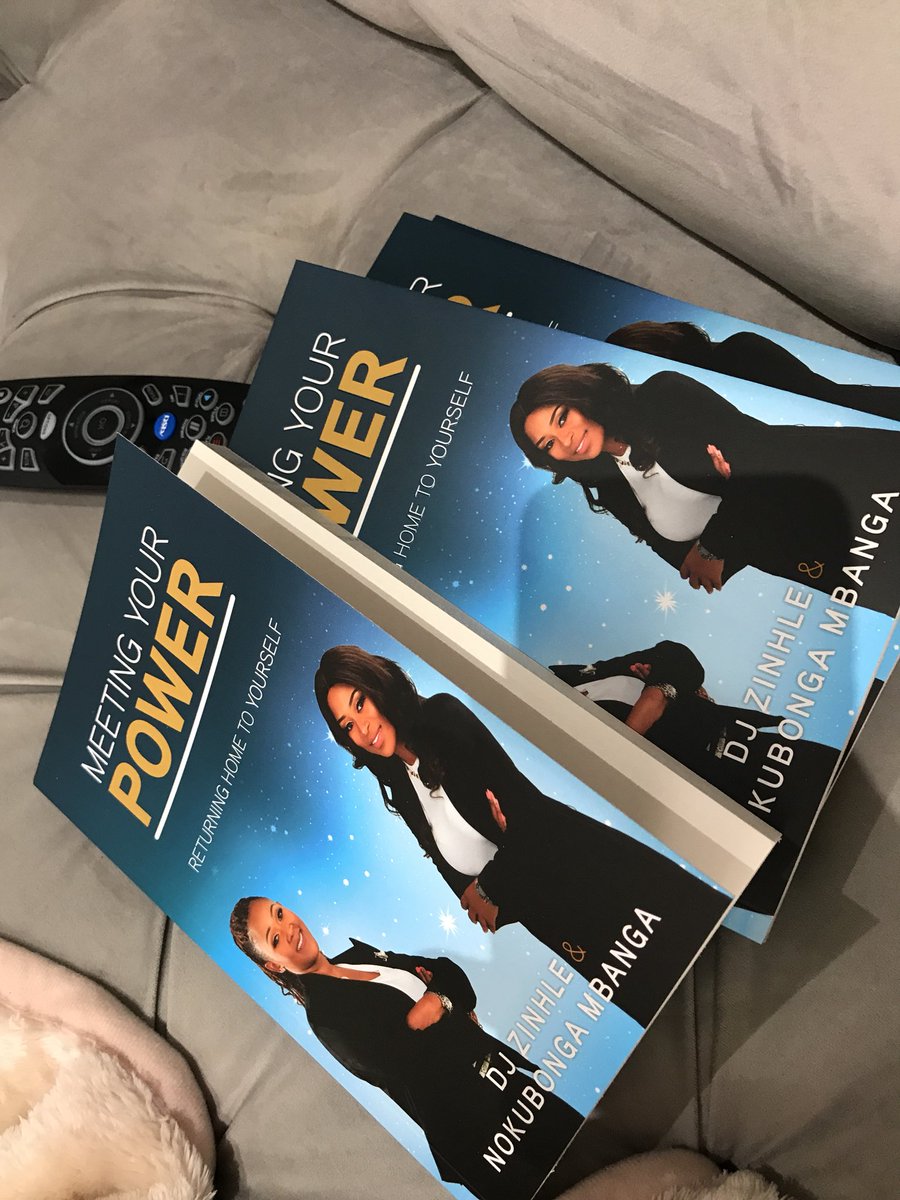 DJ Zinhle and Pearl Thusi
DJ Zinhle moved in with her bestie Pearl Thusi recently while contractors put the finishing touches ON her new house, and the Colours hitmaker couldn't be happier.
"We live in the same house. Two nannies, two babies and two working mothers. It is so much fun," she told Tbo Touch on Touch HD this week.
The pair have been inseparable for months and were even nominated in the best couple category at the Feather Awards recently. Zinhle said the best part of living with her best friend is that she learnt so much from Pearl.
"She is a better mother than me because she has more experience as a mom. She is teaching me a lot because sometimes I don't understand what is happening with Kairo. I'm like, 'Why is she screaming?' And she will teaching me how to handle a situation"
Zinhle is not one to complain about her friend but said the most frustrating thing was how Pearl took forever to get out the house.
"She takes forever to get out the house. You don't understand. We will be like, 'We're leaving now', and she'll be like, 'Okay, babe. Let me grab this' and she'll be on the phone, on the bed and I'm like, 'I'm in the car waiting for you' and she'll be like, ' You didn't say we were leaving,'" she explained.
Speaking to Channel O recently, DJ Zinhle explained how the pair ended up staying together.
"I didn't have a house, I was literally homeless because of my building and she was in New York and forced me to move into her house, so I moved myself, my nanny and my baby into her house," she said.
Zinhle has been building her house for some time now and as it nears completion, she has shared several pictures of her new place.
Source: Sunday Times
DJ Zinhle House
DJ Zinhle Twitter
DJ Zinhle Instagram