Kate Spade Biography, Death, Daughter, Husband, Networth
American Fashion Designer Kate Spade has died
Kate Spade was widely known in the fashion arena as a designer of clothes, shoes, and jewellery, but was best known for her accessory line. In 1993 she co founded Kate Spade Handbags with her husband Andy Spade.
Ms. Spade, 55, was discovered dead at her Manhattan apartment, where she had hanged herself in her bedroom, the police said. The New York police chief of detectives, Dermot F. Shea, said that the death "appears at this point in time to be a tragic case of apparent suicide," he said. "It is early in the investigation."
A police officer who wanted to remain anonymous said that she left a note addressed to her 13 year old daughter.
The family released a statement asking for privacy as the matter was being investigated.
"We are all devastated by today's tragedy,We loved Kate dearly and will miss her terribly. We would ask that our privacy be respected as we grieve during this very difficult time."
Kate Spade Biography
Katherine Noel Brosnahan popularly known as Kate Spade was born on 24th
December 1962 in Kansas City, Missouri, U.S.
Kate Spade Education Background
She studied journalism at Arizona State University.She worked in a motorcycle bar and a men's clothing store, while still studying, and there she met her husband-to-be, Andy Spade, the brother of the actor and comedian David Spade. She graduated in 1985.
Kate Spade Career in Fashion
She moved to New York after graduation and got a job as an assistant fashion editor at Mademoiselle magazine. She became the accessories editor within five years of working with the magazine. She felt became frustrated by the handbags of the era, which she found to be gaudy and over-accessorized. What she wanted was "a functional bag that was sophisticated and had some style," she told The New York Times.
Kate Spade Handbags
In 1993 together with Andy (her husband) and a friend, Elyce Arons she founded Kate Spade. The brand name was a combo of her name and her husbands (whom she married in 1994).
Her label 'Kate Spade' was initially sewed inside the bag and after her first show she decided that the label should be sewed outside so as to add an extra something to catch people's eyes. The company's bright and colourful patterned designs became a trademark of its products.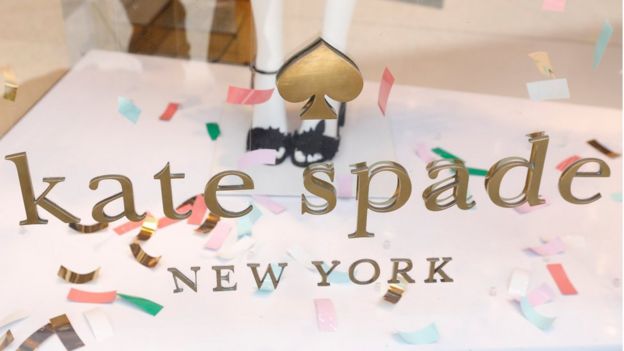 In 1999, she and her husband, Andy Spade, sold 56% of the brand to Neiman Marcus for $33.6 million. Liz Claiborne acquired the company in 2007, and Spade left her namesake brand. In 2017 it was bought by New York rival designer Coach in a deal worth $2.4bn (£1.8bn).
In 2004, "Kate Spade at home" was launched as a home collection brand. It featured bedding, bath items, china, wallpaper and various items for the home. She also shared about her personal style and philosophies in her three books: Manners, Occasions, and Style. The brand went international in 2004, when a store was opened in Aoyama, Tokyo, Japan.
In 2016 Kate and her husband set up another design venture, Frances Valentine, named after their daughter, a collection of luxury footwear and handbags
Kate Spade legally changed her name to Kate Valentine (Valentine was her grandfather's middle name) in 2016 to "separate the two worlds".
— kate spade new york (@katespadeny) June 5, 2018
Kate Spade New York issued a statement confirming the "incredibly sad news" of their eponymous founder's death.
"Although Kate has not been affiliated with the brand for more than a decade, she and her husband and creative partner, Andy, were the founders of our beloved brand," the statement said. "Kate will be dearly missed. Our thoughts are with Andy and the entire Spade family at this time."
"We honor all the beauty she brought into this world," the company said in a tweet.
Kate Spade Personal Life
In 1994 she married Andy Spade, brother to actor David Spade. They have one child Frances Beatrix Spade.